Introduction

At the end of this article, you will be able to submit a porting application to move numbers from your current service provider. Should you need any assistance, feel free to contact our support department. 
Submitting a porting request

Once you have successfully logged into your customer portal, select the "Order Services" tab followed by "Number porting" on the left-hand side. Select the appropriate country and template from the drop-down lists displayed, making sure you upload a recent invoice from your current service provider.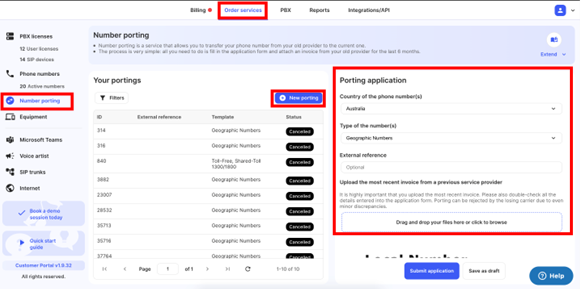 Next, you will need to complete the application details section on the right window of the screen to match the invoice uploaded. It is important that you double-check the details before submitting as errors within your application could result in rejections or delays in the porting of your numbers.  



Please note once you have submitted your application it is important you have a sufficient balance on your account to cover the porting category selected. On top of this, the application will be in the status New, once the status updates to the Submitted status it is highly recommended to follow the link, to configure your numbers prior to porting. 
Monitoring your porting application
Once you have submitted your porting application, you will be able to track the progress of the application by selecting the port to view the comments. Our porting department will place regular updates as the application progresses through the various stages of the relevant porting regulatory codes, via the comments in this section. 

Placing comments to our porting department can be submitted from the same comment section. If you wish to request the latest status for your application, or the porting department has asked for further information, you can enter your reply and submit your response directly to the porting team, using the comments window. This is the recommended form of communication to our porting department.